Quality speakers and a good amplifier make songs sound like the original artists singing live. My speakers are USA made Peavey Impulse 1012's, rated at 500W RMS each and driven by a Peavey PV-1500 1000W RMS stereo power amplifier. They produce crystal clear sound that will cope with audiences of up to 200 people. At an extra cost bass bins can be added so as to cope with greater numbers of people.
My fondness for Peavey equipment extends to the choice of mixer, I have many, but my favourite is the PV-10 usb mixer.
To enhance the mood I use enough disco lighting to project colourful patterns on the ceiling, walls and dance floor of a very large hall.
My lighting packages consist of a suitable combination chosen from 2 DMX controlled Acme Mirrage LED's, 2 DMX controlled American DJ Quad Gem LED's, an American DJ Aggressor Tri LED, an NJD Cross-X-4, 2 DMX controlled NJD 250w Datamoons, a Kam LED Mushroom, 2 Star Cluster (Red/Green) Lasers, an Equinox Atria Reloaded Laser (Red/Green/Blue), and a Equinox Ursa Laser (Red/Green/Yellow).
I do not use smoke/haze unless requested and also require permission from the venue management.
The below photographs show some of my equipment.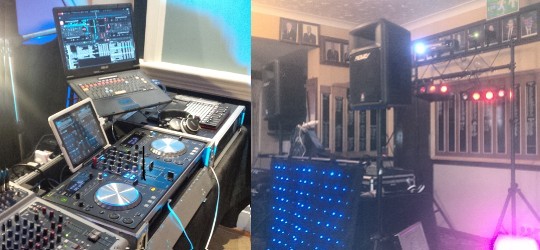 I use the Shure SM58 as my main karaoke microphone due to it's great performance and ruggedness. My rig also includes a Trantec Handheld Wireless Mic System and a flat screen TFT monitor from which the karaoke song lyrics are read. In addition I usually have a Hitachi large screen TV on a stand, or a projector and 100" rear projection screen.